Ready Room Microgallery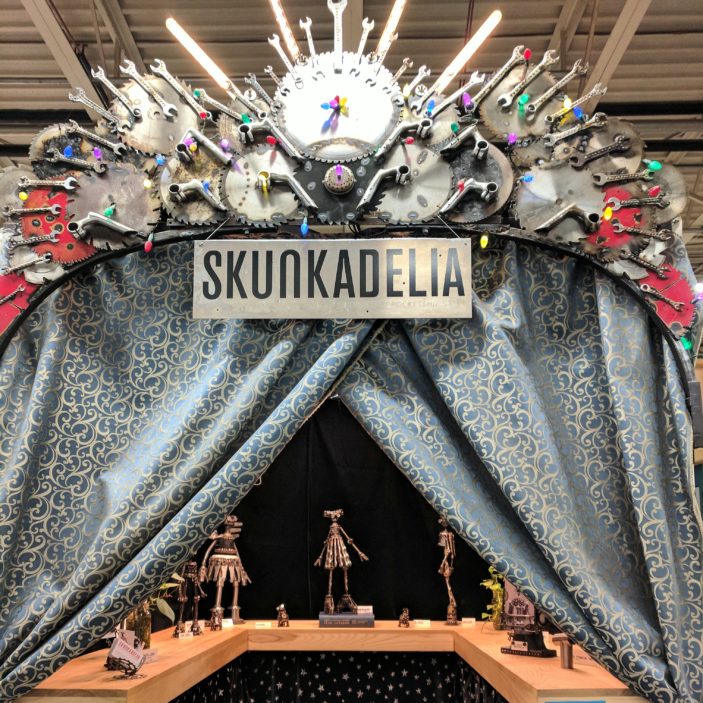 About the Ready Room Microgallery
I store the raw materials in highly organized bins, pails, drawers, and ammunition boxes which hide behind star-spangled velvet curtains. Even the small bins can be packed full with small steel parts, so I don't want to store any of my materials above shoulder level. This limitation led to the idea of using the top space as a gallery and photography studio. The custom made shelves designed specifically to hold such mass were CNC plasma cut and welded down the hall in the welding department. In fact all the work displayed at the Ready Room was conceived, so to speak, in the Ready Room — to be welded down the hall. The wooden shelves are made from solid ash by Somerville Made.
The arch is an attempt to give the room a magic feeling as you enter.
Visiting the Ready Room
The Ready Room is a regular stop on the Artisan's Asylum tour, which are regularly given
Artisan's Asylum Daily Tour Times
Mondays
2 p.m.
8 p.m.
Tuesdays
2 p.m.
8 p.m.
Wednesdays
2 p.m.
8 p.m.
Thursdays
2 p.m.
8 p.m.
Fridays
3 p.m. only
Saturdays
2 p.m.
4 p.m.
Sundays
2 p.m.
4 p.m.
Asylum Members can visit by stopping by: space #57, straight down the first hallway to the end, then look for the arch.
Meet the Artist
I'm happy to meet by appointment for a gallery viewing. Contact me to get the ball rolling.
Works Currently on Exhibit at The Ready Room Mircrogallery