Made-to-Order Astrobots
Create Your Very Own, One-of-a-Kind Astrobot
A robot figure created from welded repurposed steel isn't something you think could be available as a custom made work-of-art, however it's entirely possible. Many pieces that are used in construction, such as bicycle axles and hubs, are readily available and therefore repeatable: other pieces are one-of-a-kind, making each Astrobot unique.
As an artist I enjoy collaborating with others. The made-to-order program has been very successful: everyone who's gone custom loves their Astrobot.
Made-to-Order Astrobot Owner Quotes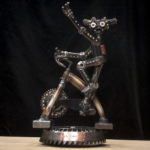 "Couldn't be better."
— Lauree C. (Jackie m328)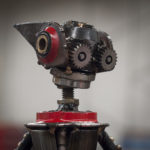 "I think the word 'amazing' is so overused these days, but that is how I feel. And not only did you capture the idea it is so well executed. You really put spirit into these."
— Marco C. (Gaia m316)
"Just what I wanted."
— Alan K. (Pokarok m298)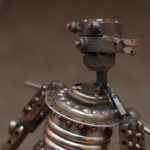 "The detail work is amazing".
— Sean N. (Opa m224)
How it Works
Fill out the Made-to-Order Astrobot form below.
I get in touch with you via email to go over the details.
Once we have a plan, submit your 50% deposit.
As I create your Astrobot, I send photos from time to time.
One the Astrobot is completed, we settle up the other 50% plus shipping.
The Astrobot is packed up, and begins it's journey to it's new forever-home.
Your Astrobot arrives, and the two of you hopefully live happily ever after.
Be patient: current custom Astrobot lead time is six to eight weeks. If you need one by a particular time to be able to give as a gift, or for whatever reason, please let me know and I will do what I can.
Choose From the Following Classes
Note: filling out the form does not require a deposit.

Previously Made-to-Order Astrobot Examples
All these Astrobots were dreamt up by their new owners.